Penawaran khusus untuk Telkomsel 
Bookful bekerja sama dengan Telkomsel menghadirkan pengalaman Augmented Reality baru di rumah. Pelanggan Telkomsel akan menerima akses gratis ke pustaka Bookful yang memiliki ratusan buku berbahasa Inggris dan permainan edukatif dalam format 3D & AR untuk memberikan pengalaman membaca Dirumah terbaik bagi mereka!
Bookful mendorong anak-anak untuk gemar membaca melalui animasi interaktif 3D / AR yang membuat membaca menjadi menyenangkan dan mengasyikkan. Dengan menghidupkan plot dan karakter, Bookful membantu pembaca mendapatkan pemahaman yang lebih baik tentang sebuah buku. Orang tua, guru, dan anak-anak menyukai bagaimana Bookful mengubah tontonan anak-anak menjadi pengalaman belajar aktif.
Bookful has partnered with Telkomsel Indonesia to assist with new at-home reality. Telkomsel customers will receive free access to Bookful's library with hundreds of educational English books and games in 3D&AR to make the most of their digital time at home!
Bookful encourages kids to love reading through interactive 3D/AR animations that make reading fun and exciting. By bringing the plot and characters to life, Bookful helps readers gain a better understanding of the book's content. Parents, teachers, and children love how Bookful turns kids' screen time into an active learning experience.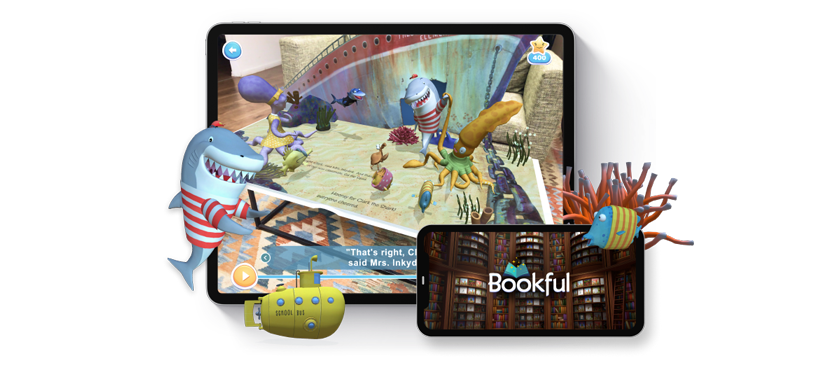 Bookful memiliki perpustakaan Augmented Reality terbesar meliputi judul-judul terkenal seperti The Tale of Peter Rabbit, DK Children's Encyclopedia, The Smurfs, My Little Pony, dan masih banyak lagi.
Saat ini, kami menawarkan berlangganan GRATIS selama dua minggu!
Bookful holds the largest Augmented Reality library including well-known titles such as The Tale of Peter Rabbit, DK Children's Encyclopedia, The Smurfs, My Little Pony, and many more.
Now offering a FREE subscription for two weeks!
Bookful berjalan optimal pada perangkat dengan RAM minimum 1GB dan GPU yang mendukung OpenGL 3. Anda dapat menemukan daftar lengkap perangkat yang kompatibel di sini. 
Bookful runs on devices with minimum RAM of 1GB and GPU that supports OpenGL 3. You can find the full list of compatible devices here.
Berikut cara agar Anda dapat menukarkan penawaran ini:
Here's how you can redeem this offer: